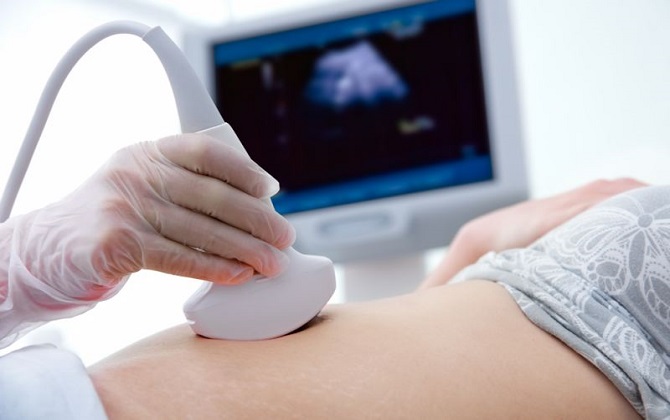 Ultrasound of the uterus and ovaries
Ultrasound of the uterus and ovaries allows assessment of diseases of the uterus and ovaries
Uterine and ovarian ultrasound has 2 ultrasound methods
(first). Ultrasound on abdominal reclining with the general ultrasound probe applies to virgin girls (not yet sexed)
(second). Ultrasound of vaginal probes for women who have had sex
Vaginal transducer ultrasound is a method that uses a specialized ultrasound probe to assess uterine, ovarian and urinary components and evaluate pregnancy in the first 3 months with high accuracy.
1. Learn about vaginal transducer ultrasound
Transducer ultrasound is a transvaginal ultrasound, the device used is a transducer
Vaginal transducer ultrasound is particularly suitable for viewing small pelvic organs inside the pelvis. Compared with abdominal ultrasound, the vaginal transducer displays sharper and more vivid images, which can clearly identify the uterus, ovarian conditions etc. through this ultrasound.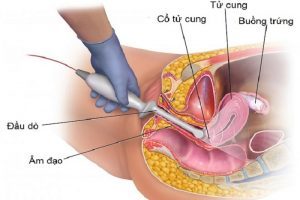 2. The ultrasound probe is suitable for any woman
Ultrasound of vaginal probes is suitable for people who have sex, are married, about to become pregnant or are pregnant for the first 3 months.
3. Ultrasound of vaginal probes can detect:
Vaginal transducer ultrasound helps diagnose many medical conditions including:
Cancer in the reproductive organs
Evaluation of pregnancy
Cysts
Fibroids
Pelvic infection
Ectopic pregnancy
Miscarriage
Detecting each other forwards
4. When do you need a vaginal transducer ultrasound
When you have a suspected pregnancy or uterine, ovarian and pelvic area disease
5. The procedure for performing the vaginal transducer
5.1 Preparation before ultrasound probe
In most cases, head ultrasound due to requires less preparation.
Dressing and dressing for maternity exams.
Depending on your doctor's instructions and why ultrasound is needed, your bladder may need to be empty or partially full. The bladder is full of water for a clearer ultrasound image of the pelvic organs.
For full bladder, approximately 800-1000ml of water should be taken about an hour before the procedure.
5.2 The process of performing the vaginal transducer
When you do the ultrasound, you lie on your back on the examination table, bending your knees. For the most convenience, usually your doctor will prescribe a small pillow for your buttocks.
The ultrasound probe will be wrapped with a condom with a lubricating gel, which is then inserted into the vagina. If you are allergic to latex, you should inform your doctor before proceeding with the examination.
The patient may feel some pressure or discomfort when the transducer is inserted, which is similar to the Pap smear when the doctor inserts a speculum into the vagina.
The doctor will need to reduce the light in the ultrasound room to help make the observation of the image clearer,
5.3 What does a vaginal probe need to do after an ultrasound?
After the ultrasound probe, if the doctor finds out the disease, you will be consulted enthusiastically about the next steps to take, if there is no problem, you will be given a doctor's advice. permission to participate in daily activities.
6. Where is the ultrasound of the vaginal probe in the city? Ho Chi Minh
36 Ultrasound Clinic is one of the prestigious ultrasound addresses in Ho Chi Minh City. HCM. Since its establishment until now, Clinic has always strived in all medical activities to improve the quality of image diagnosis, healthcare for patients, with strengths such as:
6.1 Clinic equipment and facilities:
All modern machinery and equipment are 100% newly invested and imported from G7 countries with modern and accurate technology.
6.2. Team of good, experienced doctors:
Being diagnosed by leading experts, experienced professors and doctors, regularly updating knowledge, advanced healthcare methods and modern medical techniques
 6.3 Public and transparent costs:
All expenses at 36 Ultrasound Clinic are always publicly and transparently posted, suitable for all patients.
If you have any questions, please contact our 36 Ultrasound Clinic hotline: 0917717498; email: phongkhamsieuam36@gmail.com or directly to the clinic at 36 Street 6, Khang An Resident Area, Phu Huu Ward, Thu Duc City, HCM City.