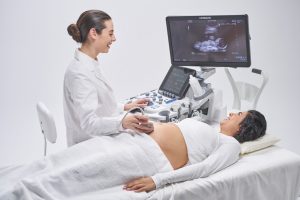 36 Ultrasound clinic – Street 6, Khang An Residential Area. Phu Huu Ward. Thu Duc City (near CC SKY9) – License number 07959 / HCM-GPHONE
Over many years of practice, our clinic has and always learns knowledge and skills to better serve and take care of customers.
Services at the clinic:
– Fetal ultrasound:
Morphological survey
Doppler blood vessels: umbilical artery, middle cerebral artery, …
Measure nuchal translucency
Measure cervical canal
Periodically every month during pregnancy,…
– Color ultrasound – Doppler (male/female):
General abdomen: liver, gallbladder, kidney, bladder, etc.
Thyroid, cervical lymph nodes
Heart, blood vessels, software…
Vaginal probe: uterus, ovaries, uterine fibroids, ovarian cysts, etc.
Mammary glands
– Blood tests for pregnant women:
+ NIPT test, 9 recessive gene diseases in pregnant women, 25 de novo mutations in fetus,…
+ Test Combined test, Double test, Triple test
+ Test to check for gestational diabetes – Blood sugar tolerance test
+ Test for Group B streptococcus (GBS),…
– Periodic health check-up blood tests: liver function, kidney function, blood fat, hepatitis B virus, cancer screening (cervical, ovarian, …) and many other tests
– Counseling on contraception – family planning
– Aspiration cytology (FNA): Early detection of cancers of thyroid, breast, etc.
Our mission is to contribute to improving public health, reducing overcrowding in public hospitals and contributing to the socialization of health care.
Our commitment is to bring people medical services with international standard quality, highest efficiency, compassion and reasonable prices.
Your health is our top concern.
This is ensured by us with the highest quality, reputable, responsible medical services along with a team of experienced doctors, hard work, dedicated care and treatment of patients, Tireless continuous dedication, fully equipped with modern machinery and equipment imported from G7 countries with modern and accurate technology, applying 4.0 technology in remote imaging, can consult with leading Vietnamese experts and international experts when necessary.
The health care services here are of the highest quality, including both predictive and preventive treatment. All of the patient's personal privacy needs will be respected and fully addressed.
36 Ultrasound clinic is one of the most prestigious and reputable clinics in Ho Chi Minh City highly appreciated by experts and trusted by a large number of patients.
36 Clinic is located at Street 6, Khang An Resident area, Phu Huu Ward, Thu Duc City, Ho Chi Minh City
Customers coming to ultrasound clinic 36 will get many benefits such as:
Welcome in a comfortable and friendly environment, schedule and consultations on demand, without having to wait too long.
Being monitored by leading experts, professors, and experienced doctors, screening health problems at the clinic, when there is a disease requiring specialist opinion, the patient will be consulted by doctors. Devoted
Support remote diagnosis service between clinic and medical experts at home and abroad.
To listen to and consult with your questions and health problems.
Get comprehensive and ongoing health advice from doctors
Being explained specifically by the doctor about the disease, even after the disease is over, the doctor will continue to screen for risk factors affecting health.
Get care from your doctor even when you are sick and even when you are sick.
Be guided enthusiastically in prevention and monitoring of the disease.
With the above benefits, Ultrasound Clinic 36 is always proud of its continuous development efforts to bring the best medical services to the people.
36 Ultrasound clinic  Street 6, Khang An Resident area, Phu Huu Ward, Thu Duc City, Ho Chi Minh City
Working time: from 17:30 -21:00, 3,5,6,7 and from 9:00 – 21:00 on  Sunday
Email: phongkhamsieuam36@gmail.com
Website: http://phongkhamsieuam36.com/
Phone: 091 7717498 ; Zlao: 091 7717498